EASTER SUITE
(I)
koan/conundrum
which came first
the chicken or the egg
neither
nor did a 3-legged horse
in the 2.30 at Aintree
either
(II)
never the twain
Easter is Easter
and Wester Ross is somewhere in Scotland
(III)
bitter disappointment
Easter Island isn't
made of chocolate after all
well it would have melted
come sunrise anyway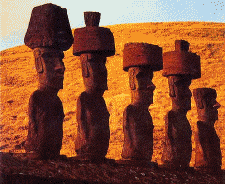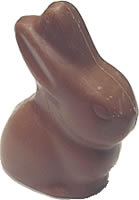 chocolate statues?

(Chocolate Easter Bunny)
(photo by DK)
[Embedded Sound requires Internet Explorer]
cheap cheap
PS: Well,what do you know?
Easter-day Sun. It was formerly a common belief that the sun danced on Easter Day. Nowadays we know that it is just a newspaper, & it takes two to tango!