THE BOOZE BLUES
woke up this morning with a pain in my head
thought feeling like this I'd be better off dead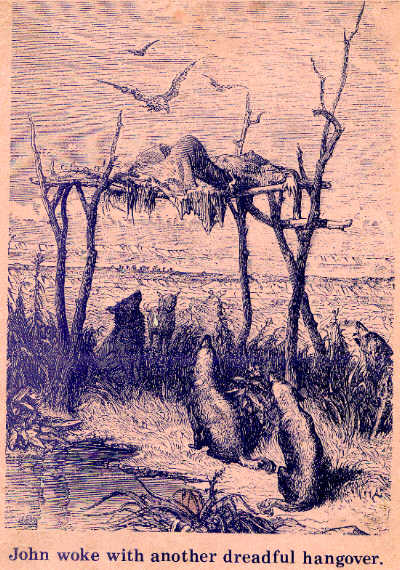 NEVER AGAIN NEVER AGAIN
felt even worse when I fell out of bed
NEVER AGAIN NEVER AGAIN
looked in the mirror my eyes were all red
NEVER AGAIN NEVER AGAIN
went for a walk but my legs were like lead
NEVER AGAIN NEVER AGAIN
somebody said they'd heard that one before
NO NEVER AGAIN NEVER AGAIN
do you mean to say you won't drink any more
WELL NOW & AGAIN NOW & AGAIN
why not go to the pub for a hangover cure
SAY THAT AGAIN SAY THAT AGAIN
have a hair of the dog if your head's feeling sore
Alcohol intoxicates. There's a clue in that word. It's toxic...
[image & caption taken from a postcard
by Willi Kerr ~ thanks Willi!]

" And what of the psychology of alcoholism and alcohol use? Is there a gestalt of alcohol, and if there is, then what are its characteristics? I have implied that alcohol is the dominator drug par excellence. Alcohol has the effect of being libidinally stimulating at moderate doses at the same time that the ego feels empowered and social boundaries are felt to lose some of their restraining power. Often these feelings are accompanied by a sense of verbal facility (ordinarily out of reach. The difficulty with all of this is that research findings suggest these fleeting effects are usually followed by a narrowing of awareness, a diminishing of ability to respond to social cues, and an infantile regression into loss of sexual performance, loss of general motor control, and consequent loss of self-esteem."
"We know that alcohol is responsible for a high proportion of our traffic accidents, our crimes of violence, our domestic miseries; and yet we make no effort to replace this old-fashioned and extremely unsatisfactory drug by some new, less harmful and more enlightening mind-transformer."

(Aldous Huxley, Brave New World Revisited, 1956)
Soundloop created from L.B.Lenoir's 'When I Am Drinking'
[NB to hear embedded sound enable audio in your browser]