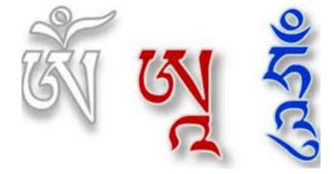 Visualise in radiant colour at head, neck, heart chakras
Mantra said to purify body, speech, mind
*
OM stands for the body, AH for the speech, and HUM for the mind. Representing possibility of transformative blessings of the body, speech, mind from all the Buddhas - past, present, and future.


OM

,

the essence of form,

AH

the essence of sound, and

HUM the essence of mind.

B

y reciting this mantra,

one is

purifying the environment, as well as

oneself &

beings within it.

OM

purifies all perceptions,

AH

all sounds, and

HUM

the mind, its thoughts and its emotions.
***
[NB Enable Audio for Embedded Sound]