Brief Literary Biography
At present, Davy King remains below the radar of the literary establishment & mainstream culture in general. Those unfamiliar with his work might be interested in a little more background information.
Davy King is a British writer, born December 1951, Isle of Thanet. Lived in many places over the years. Now resides in Sheffield.

Earliest "poem" published in County magazine, age 9. Consciously, creatively writing since he was 16 (earlier really).

Davy King studied English with personal tutors Frank Kermode (at University College London), & Norman MacCaig (at the University of Stirling). Both made kind comments about his written work:

'Excellent & perceptive...original & interesting...very promising' (Sir Frank Kermode, Professor of English, Cambridge, UCL, Harvard)

MacCaig, with whom he also did many 'readings', described Davy King & his work as follows: "An individual voice… an admirable directness… behind the wit that's a necessary element in effective irony there is here a mind at work - all right at play - whose seriousness is not to be doubted… a mind committed to matters of some importance."

Some other well-known people, with whom he has interacted, have praised his work:

'Entertaining' (Hamish Henderson, 1919 - 2002)

'Beautifully produced' (Clive James, describing a poem-card of his)

'I like it' (Professor Laurie Taylor, Sociologist, Broadcaster, referring to one of his poems read on Radio 4)

He performed frequently in the Edinburgh Fringe & other festivals (inc. Glastonbury, 1983), schools, colleges, universities, pubs, folk clubs, as 'Kamikaze Bard Little Davy King's Performing Doggerel'. Dubbing himself a 'Purveyor of Videosyncratic Vaudeville Verse', he utilised mime, costumes & props to dramatic effect.
Often, though by no means exclusively, a satirical & comic writer, Davy King aspires to "high seriousness with a sense of humour" (in his own phrase, adapted from Matthew Arnold.)
Davy King's writing has appeared in The Guardian, The Morning Star & various magazines & anthologies.
Publications include -
'End of the World Show (Nuclear Program)' (booklet,1979)
'Late News/ Early Warning' (booklet, 1984)
'Songs of Frustrated Lust & Seduction' (ISBN 0-9550199-0-7, published by INKunabular CLONES, 2005)
'Year of the Dog' (ISBN 0-9550199-1-5, CD-ROM, published by INKunabular CLONES, 2006)

Has designed, printed & published poems in pamphlet, postcard & poster format.
His work has been broadcast (if only a few times) on BBC TV & radio & can be found in the National Sound Archive & Scottish Screen Archive.

Currently (Feb 2023), his website (https://www.davyking.com) has had over 20 million hits since 2002. This massive site of more than 640 interlinked web-pages, forming a vast hypertext, is "work in progress," which contains half a century of creative writing in both verse & prose, presented in a visually impactful, entertaining way. He considers it his literary legacy, if it can be preserved.
***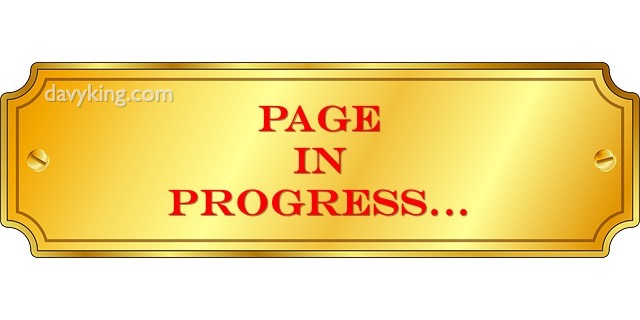 | | |
| --- | --- |
| click pic? | |
PS from Raving Reporter, writing in the first person -

Another way of putting it: from adolescence, I could be said to have suffered from (as well as enjoyed to some extent) a form of mild-to-wild Compulsive Writing Syndrome/ Graphomania (cogently documented here). Only slight exaggeration. I mostly have it well under control now. It could also be described as being 'seized by inspiration.'
I make my work freely available to one & all. Share as you like, with an acknowledgement of course. If you find this page interesting, entertaining or useful (choose whatever epithet you think fits), please consider making a donation via PayPal here. It's safe & secure.

This entire large website has been a real labour of love by Yours Truly. I don't get paid & have to cover all running costs out of my own small pocket. Am in the proverbial starving (at least slightly peckish) artist in a garret situation. Give what you can. Thanks. Happy to gratefully name check any contributor, unless you prefer to be an anonymous donor.