Crafty?
Yes.
My consort is no

She's a rather crafty


Don't KNIT YOUR BROWS to decipher that
She KNIT our son OAK, born Year of the Rabbit, this cute woollen Rabbit
Aged 9-ish
She is very clever when in comes to crafts like knitting, crochet, sewing, clothes-making, that sort of thing
click pics?

click pics for more stunning puns!

crochet figures
| | |
| --- | --- |
| click pic? | click pic? |
| | |
| --- | --- |
| macrame tree of life: | Crochet Dress |
She's an expert at Carving Pumpkins. These are just a few of the Jack o'lanterns she's made at Hallowe'en.
Pumpkin pie anyone? Food?
Something for every season, (etc). Eg Yuletide Wreathe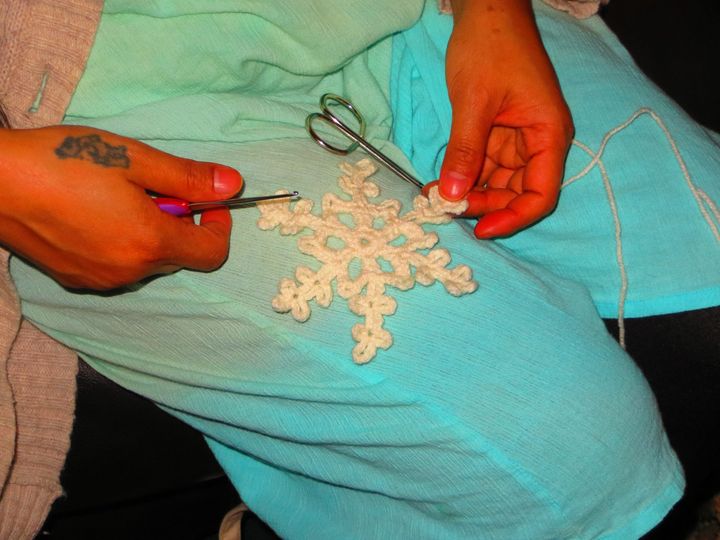 Crochet a Snowflake, each one different
Beautiful black & brown fleece. Now needs to be spun & knitted. Enough there for a few jumpers, scarves etc. Warm for winter. In other words, we weren't fleeced!

She has a Bog Oak Turkish spindle (sourced from the East Anglian fenland basin. The Bog Oak has been carbon dated to 3300 BC so is more than 5000 years old. The logs were excavated from a sunken forest caused by a rise in sea level that started about 7, 000 years ago (cf Tuvalu.)
| | |
| --- | --- |
| MACRAME in Garden, melodious with birds. Dragon tattoo on left upper back. | |
Knitting can be political
Wool Against Weapons
Cooking - vegan cheese-making etc. Cake & other Food?
pun?
Page needs patching.
Actually, am still in laborious process of knitting this page
Nailed it? Or screwed?

II
If you like this Site & want to encourage it, you could donate here
THANKS