Am already playfully working on a few

pages,
to be revealed soonish or laterish.
Watch this space.
Try this for size:
More coming soon
NEWSFLASHES, February 2021:
Old Dog, New Trick?
This month, my 9-year-old son taught me some new (well, 1980s rapper) slang I hadn't heard before:

"Give props to" = To praise & show respect to, (from proper respect for/ recognition of)

So, there's an extra pun for my arsenal, give props to me for my props here.
***
12th Feb - Chinese (&Tibetan) Year of the OX begins.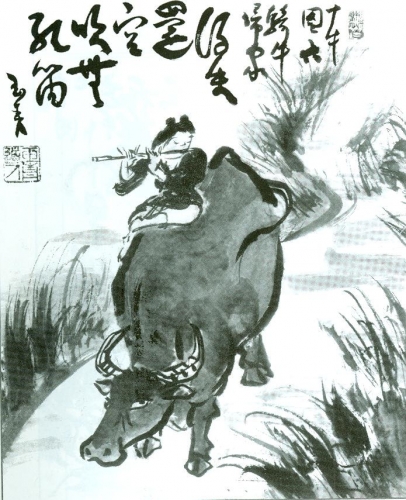 13th Feb - almost a decade on, 7.3-magnitude earthquake off Fukushima, Japan, scientists say was aftershock of 11 March 2011 disaster (quake, tsunami, triple nuclear meltdown at Fukushima Daiichi nuclear power plant, when more than 18,000 died.)
***
Lawrence Ferlinghetti, writer & founder of City Lights Books, died 22 Feb at age of 101. Wrote this essay on him in 1974.
***
March, the Rightwing Regime (aka Tory Government) in this undemocratic Monarchy, is in the process of outlawing protest with ten year imprisonment for those causing "serious annoyance" (their words). In case I get accused of inciting such annoyance, I must clarify that by "March" I mean the month not an imperative to act, though strictly speaking I couldn't rule out being deliberately ambiguous!

See what I said about protesting, rioting, causing serious annoyance in previous years:

Got wrongfully arrested at a protest here.

It might well be that the very reason people protest is that they are "seriously annoyed" by something, eg Tory anti-protest laws!

Despite being made illegal by the U.N.(since 22 January of this year) the government is planning to acquire yet more damned nuclear weapons, which seems like a deranged priority at a time of Covid plague & ecocidal climate disruption. Might prompt some seriously annoying protest.

The Racist formerly known as Prince Philip, Grand Old Duke of Edinburgh, (born in Corfu, Greece, of a Danish Royal Family), Her Modesty the Queen's hubristic hubby died 9th April a few months short of his one hundreth birthday. Nation, if not world, said to be in shock. Mourning de rigueur. BBC pro-royalty propaganda overload.

More interestingly (to me anyway), the 9th was also the Bicentenary of Baudelaire's birthday in 1821.

***

April, Spring eventually blossoms, so added a bit to this page.

***

May, created new page: Swansong to Duality.

The bigger picture has been in the news. A new Dark Matter map, including Cosmic Voids apparently, has been published. But don't forget the map ain't the territory!

| | |
| --- | --- |
| | A.I. detects canine DNA in my features: I'm a Dog! Well, ain't I just? |

June soon.

Now, indeed!

Saw first swallows. One

swooped to within about a metre of me.

What a brill thrill.

***

Friday 11 June till Sunday 13th June, the G7 Summit is being held in the village of Carbis Bay, near St.Ives, in Cornwall. This is what I wrote about the G8 at Gleneagles in Scotland & the one at Genoa. I attended the 2005 anti-G8 protest & was wrongfully arrested. Gee whizz!

15 June, vast face-mask put on 57-metre-high statue of Buddhist goddess of Compassion, Kannon, near Aizuwakamatsu, Fukushima. Plan is to keep the mask in place till COVID-19 under control in Japan.

click pic


21st June, SOL stood still, on the Longest Day.

19th July, England's rightwing regime lifts restrictions & allows Her Majesty the Queen's loyal Subjects to remove their beaked masks, though the pernicious Plague continues. Covid cases are increasing. Globally, over 4 Million people have been killed by this madly mutating zoonotic virus. Will the nightmare never end?

Dig the Doctor's P.P.E.
14 July

, Danish Ca

r

toonist, Kurt Westergaard

(right)

died age 86

.

H

e was

placed on an Al-Qaeda hit list

& attacked in 2010

for allegedly insulting Islam with a cartoon of an Islamic terrorist with a bomb in his turban

(not Mohammad as mistakenly claimed).



24th July - Full Moon, like every month.

3th August - Received copy of 50th Anniversary Edition of All Things Must Pass by George Harrison, a magnificent, melodious reminder of Impermanence. How time flies. Remember this meaningfully titled album from when it came out way back in November 1970. One of the songs, 'The Art of Dying', now hits home rather more, as a musical memento mori for me & everyone else. No necessity to be mournful, rather we can appreciate the value & beauty of this precious human life. Recall the human condition, lest we forget...

The Uber Deluxe wooden crate version (a bargain at 'only' $999.98) even contains 1/6 scale figurines of Harrison & the Friar Park gnomes. Prophetically, I did my gnome page earlier this year.

***
It has just been announced that July was the HOTTEST month on Planet Earth since records began:
"The data shows that the combined land and ocean-surface temperature was 0.93C (1.68F) above the 20th Century average of 15.8C (60.4F)...It is the highest temperature since record-keeping began 142 years ago... Experts believe this is due to the long-term impact of climate change...The combined land and ocean-surface temperature was 0.01C higher than the 2016 record. In the Northern Hemisphere, land-surface temperture reached an "unprecedented" 1.54C higher than average, surpassing a previous record set in 2012."
(Source: BBC News)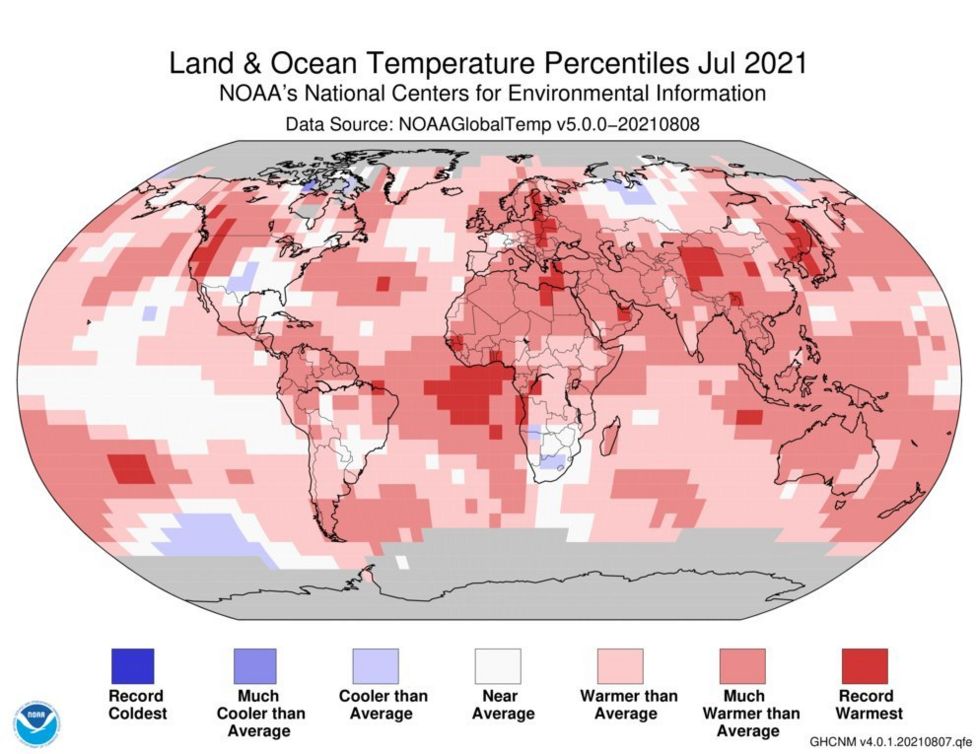 Funnily enough the acronym for the National Oceanic & Atmosphere Administration (NOAA) punningly refers to Noah of Ark fame! Appropriate considering there's an increased risk of flooding in some areas...
I wrote about the devastating 2010 Earthquake in Haiti. There's been another one (7.2 Magnitude) on 14th August this year. Progress? See Fukushima Kannon earlier this year, above.
From 23rd August for 2 weeks, XR Impossible Rebellion in London. A courageous attempt to prevent Extinction.
25th August - Just made new webpage of this piece by my late father: To Be As One With God
& this by him, A Snowdrop During Wartime
31st - Another piece by my father about St.Paul's during the Blitz in 1941...
1st September - New webpage of my Father's Parting 1940, another wartime piece.
And some comic verse by him: Thoughts on the Immutability of Matter. I remember I enjoyed that as a young teen.
2nd - New webpage: The Pharos (Dover Castle)
4th - A Plea for the Old Ones by my father. I'm now older than he was when he wrote it.
5th - There's a Moral Somewhere, comic satire by NK
8th - On this day, 8th September, in 1968, my father died, aged 53. The Beatles had just performed 'Hey Jude,' live on TV (my dad watched.) "Take a sad song & make it better." Beautiful & meaningful song. Has a special place in my heart.
click pic?
10th - Hindu Festival for Ganesha (elephant-headed god, said to represent deep wisdom, centeredness, ability to ease obstacles, commitment to pursuit of knowledge), celebrating new beginning & fresh starts.

He no Dumbo!

Placed this statuette (not exactly to scale) at bottom of garden, where the fairies live:
11th - New video page about an occasional visitor to garden, filmed a few years ago: FOX!
- Unhappy Anniversary, I referred to here & here & here.
13th - Lucky for some, finally took a D.I.Y. Covid test, having succumbed to heavy cough & cold symptoms. Results due in a few days.
14th September - 700th Anniversary of Dante's death (1321).
16th - Unhappy Anniversary: brutal torture & murder of Victor Jara by Dictator Pinochet's army in Chile, 1973.
18th - Covid swab test result negative, as expected. So personally must still be careful. Also, according to reliable reports, it turns out that U.S. funded Wuhan Lab in risky 'gain of function' research & possibly manipulation of Coronavirus, resulting in pandemic we have been experiencing worldwide for last few years.
7th October - finally created new page of raw sewage footage of my 1983 Live Performance, nearly 40 years after the event!
8th - Just posted an old poster of an early performance by Little Davy King's Performing Clones in Subversification & Loud Words against the Conspiracy of Silence, Brighton, 1979. See it here, if you're interested.
9th - Recently struggling up the stairs with what, in my case, might be a symptom of Parkinsons, I recalled this. Just before he died, my poor old (young, by my present standards) dad made a splendid bilingual pun. At the time, I was studying 'O' Level Latin ("small Latin & less Greek", like Shakespeare, according to Ben Jonson). After a few heart-attacks, climbing the stairs was a bit arduous for him. My Dad still had the good humour to quip "per ardua up the stairs".

Ad astra indeed...
Talking of my father, today I got round to posting a scan of a pen & ink drawing of Beddgelert he did in 1949, a few years before I was born. When I was a kid, he told me the apocryphal folk tale, from which the Welsh village was said to derive its name, about the faithful hound, called Gelert, supposed to have defended medieval Prince Llewelyn's baby from a wolf.
12th - BBC News Headlines today: "Covid response one of UK's worst health failures." It was covering a new Parliarmentary Report. UK total Covid death toll so far: 138K & rising. When I was writing about that vile virus last year, I had no idea it would still be in the headlines.
Did

page I created from a beautiful text I found next to my father's deathbed.
13th - SUFI SOCKS
ROCK SHOCK!

Recently acquired a pair from the USA rather than the old Ottoman Empire.They are very stylish. Nice & Comfy. No more cold feet for me.
However, unfortunately, must confess I fear my whirling days may well be over, tho am always free to imagine.

From foot to head now. Sufi sox to Sufi Winged Heart earring. Every part of the body catered for. "Spiritual materialism" as corporate consumer capitalism gone mad. Whatever next?
There are beautiful, brass bronze Sufi brooches as well. This one I wear over my heart.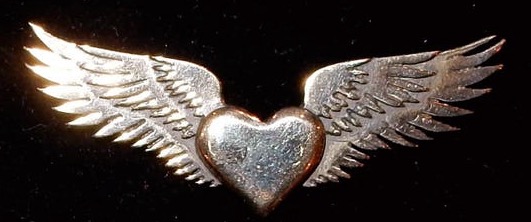 click pic?
Heart of gold?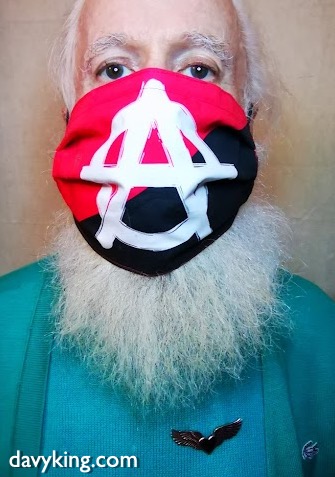 So it was a false claim in my piece, Icarus Ridiculous, that "you won't find me with a pair of wings/ gazing wistfully at the sky"
Talking of Sufism, it's occurred to me that, in terms of belief, I could be fairly accurately described as a sort of quasi anarcho socialist, advaita vedantist, buddhist, gnostic, sufi, quaker, nondualist... or that kind of non-thing... am not really an "-ist."
Funnily enough, ie not very funny, ironically perhaps, pre-Covid demonstrators were threatened with arrest unless they removed face masks but I got wrongfully arrested even when I did (here). Nowadays, you can get arrested if you refuse to wear a face mask!
Click pic?
***
16th - Playing with new page, here. Now has sound & vision. Very colourful. Aesthetically erotic in a sacred way.
19th - memento m
ori, a Yak bone ring. Reassuringly, the Yak died naturally & sale of these artefacts, made by Tibetan refugees, supports the FREE TIBET campaign.
.Saw in the News a photo of Her Maj the Queen using a walking stick. Well, she's getting on a bit (95) &, at a fraction of her age (a mere stripling at 69), I use one too. Will repeat again that, despite my surname, I am no supporter of the outmoded, undemocratic institution of monarchy.
21st - Full Moon again this month.
55th Anniversary of Aberfan disaster in 1966. My father, born in Wales, wrote movingly about it, here. I remember hearing about it on the TV News.
Playing new Beatles 50th Anniversary mix Deluxe edition 2CD version of Let It Be. Fab. Sounds OK to these ears. What a lasting musical & cultural legacy those 4 Liverpool lads have.
The title, LET IT BE is good spiritual advice. Acceptance of what is. No resistance to what actually is. Of course that doesn't mean we can't change or modify. Remix reality!
22nd - Publishing online PUN-hub. Pun lovers treat yourself to a dopamine rush & take a look.
***
31st - Clocks went back in hour house. Tonight's
click pic?
Here's one I made earlier with the kind assistance of my crafty consort who's adept at pumpkin carving (i.e.Jack-o'-lanterns), among other things. Musical help from undead Diamond Dog Mr Bowie and, Liverpool's gift to the world, those 4 lads who need no introduction.

Another slice of pumpkin pie, anyone? Feed that hound perhaps.
Tricks or treats to make flesh creep?
HORROR HUMOR for the hurrying consumer. Get spooked here.
Actually, I really don't like this trick or treating lark. American cultural imperialism, demanding sweets with menace! It ain't British. Personally, I won't answer the door this evening. It only encourages them. Parents should know better really, allowing kids to gorge on sweets like that. Crickey,I might be turning into a curmudgeon - too early to be a Scrooge, lol.

1st Nov - World VEGAN Day. As COP26 (UN CLIMATE Change Conference) starts, becoming Vegan, if you aren't already is one course of action you can take as an individual & collectively to make a major positive contribution to compassion & sanity, saving animals, the environment & our own health. It's easy & tastes better too!
Added

short video, dig it.
4th - Another

page, this funny little home movie about, of all things, folding clothes, lol...
5th - Yet another

video page. This one, topically, about a bon , I mean bad, fire, here.
Yep, "Bonfire Night's not the same any more. Still, if you must hark back to those distant days of childish innocence, when holding a sparkler was the ultimate thrill & a Brock's Rocket the height of hi-tech whizzadry, or even if you simply wish to keep warm on the 5th" (Quote from an old article I wrote in the !980s.)
Watched Visconti's "Death in Venice", based on Thomas Mann's novella of the same name published in 1912. Saw it shortly after it came out in 1971, so this is the 50th Anniversary year. There's a critical consensus that it's a masterpiece. Won't contest that. Wonderful musical soundtrack & cinematography. Dirk Bogarde was great in the starring role.
Coincidentally, it occurs to me that the Cholera epidemic that Venice is gripped by, seems reminiscent, mutatis mutandis, of our contemporary Coronavirus.

Watching the film first time round inspired me to compose this 4 line quasi-clerihew, which contains a snippet of Mahler's Adagietto from Symphony no.5 in C-sharp minor, so enable sound in audio.
6th - Going from the sublime to the ridiculous, created this video page, called "Angel". The 48 second mini movie hardly rivals Visconti, but it's cute & amusing. Lots of tempting hyperlinks for you, dear reader, to click.
7th - Did another

page, named Bunch, which brings together related pieces about

.
11th November) marks the Centenary of the first official Poppy Day (Remembrance Day) in 1921. Unfortunately, wars are still being fought. There will. of course, be many other Anniversaries, happy, unhappy & who-cares? New artwork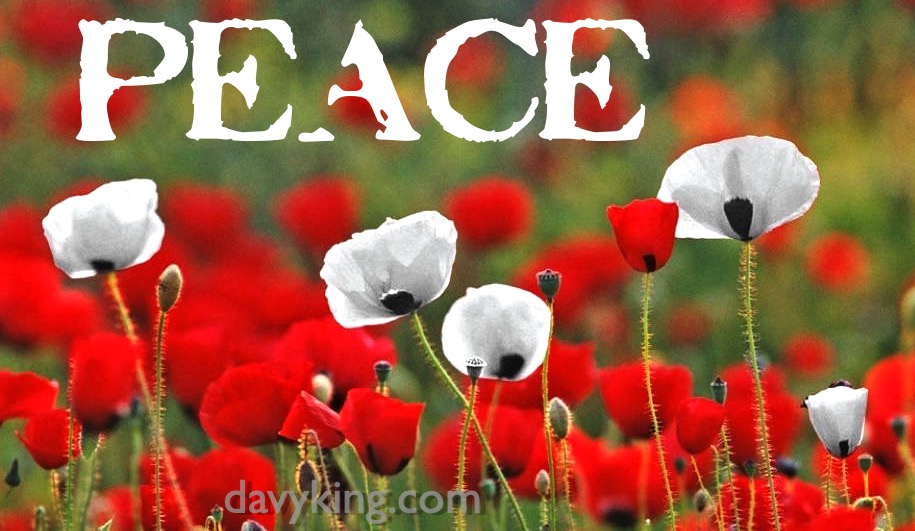 Anyway, my dears, cheer yourself up with this timeless footage of darling DUCKS I created a new page from.
Made OK new page about our 10 year old son O.King.
Another new page.
12th - Rough draft in time for end of COP 26. Will no doubt revise.
15th - Adding lines & rhymes to my considered response to COP. The challenge is how to encourage people to bother to take a look, involving as it does a strenuous click of the mouse.
22nd - Miracle this morning in the garden, surprising to see a
blossom
on the apple tree, spring pink in late Autumn, leaves beginning to yellow before falling.
click pics?
Somewhat unseasonal. Anything to do with
climate change
? I wonder (in the equivocal sense of being curious & feeling awe.)
Or: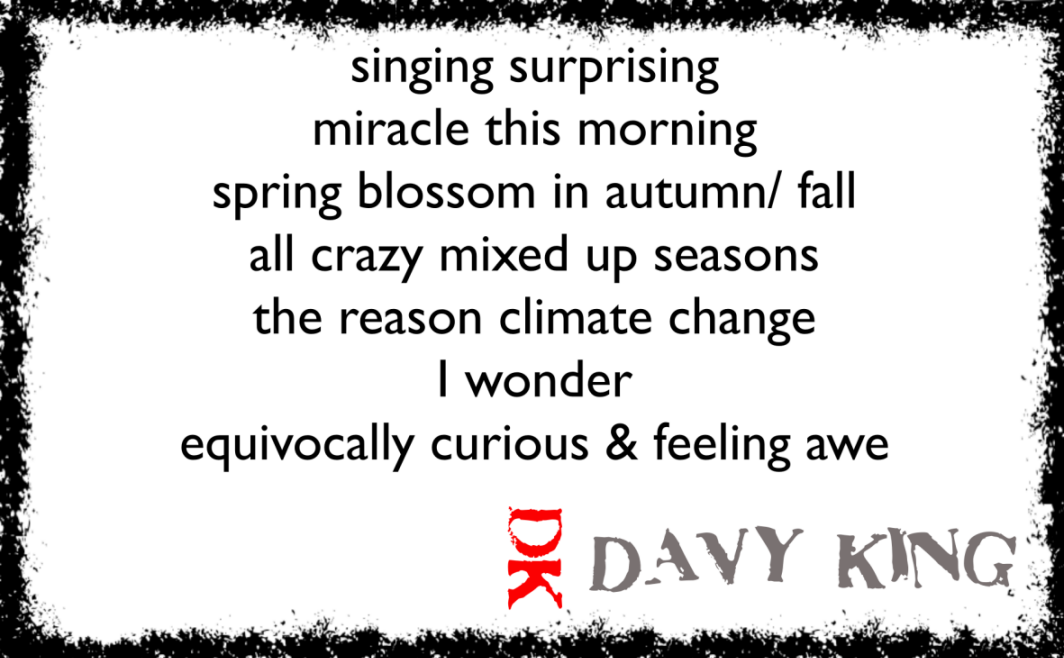 23rd - Created

25th December November - Christmas comes a month early. Not referring to Thanksgiving Day (associated as it is with celebrating genocidal cruelty - by imperialist colonialists - to indiginous Indians & millions of innocent turkeys) but am grateful that The Beatles' Get Back (directed by Lord of the Rings Peter Jackson) is finally available to watch via Disney (a brand carrying for me childhood memories of classic cartoons - Bambi anyone?)
First part ends with young George (see above) quitting band. By George! Don't blame him. Would be a cliff-hanger except the story is so well-known to us like a myth.
Pleased to see a bunch of cheerful daffodils featured throughout, early for January when it was filmed.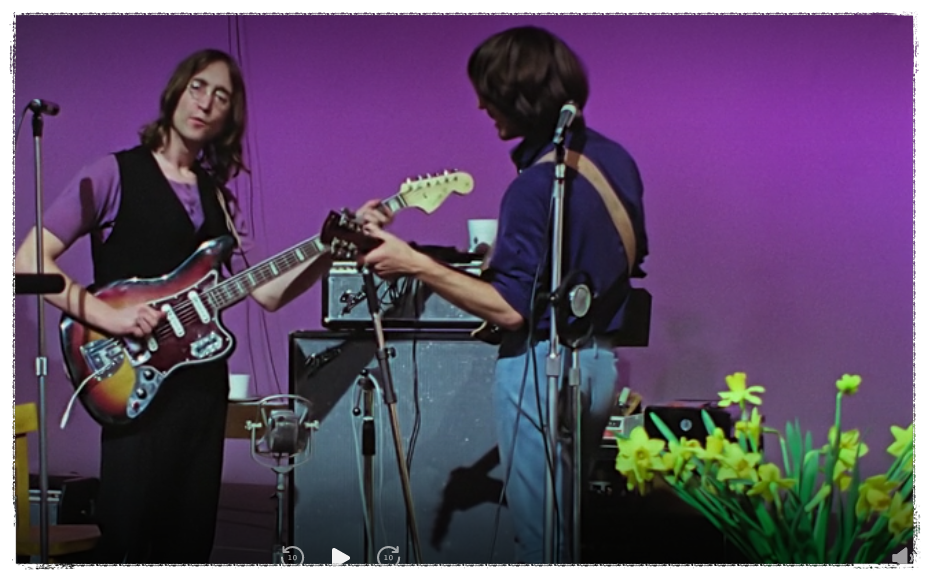 26th - part 2, yet more revelatory insights into the creative process of Les BEATles. At one point, the assassination of Martin Luther King was mentioned & briefly discussed. Now some years ago, I prophetically created this page (about Assassinated Dreams), juxtaposing MLK & JL.
Windy all night, wind howling down chimney. Gale force wind named 'Storm Arwen'. Arwen, being welsh for muse or noble maiden, princess of the Elves in Tolkein's Lord of the Rings (a nice coincidental connection with Peter Jackson.)
27th - Woke to white. Snow. Which I still find exciting, as does young O.K.
Went to check if the unseasonal blossom is still there. It is. Appearing to shiver in the icy wind. Snow & blossom juxtaposed, oxymoronic image.
Third & final part of Get Back film climaxed with the cops/ friendly local bobbies doing their habitual "hello, hello, hello, goodbye, goodbye goodbye, what's all this then routine," making a satirical subversive, anti-authoritarian point, even half a century on.
Good to see them goofing around & improvising, making music. Entertaining, informative addition to their living legacy, as well as Peter Jackson's oeuvre.
28th - Latest development in continuing story of Covid with new variant Omicron rampant & on rampage. At least it contains OM. A reminder that we aren't separate from ALL.
More Snow.
click pic?
1st December - Here beginneth my Birthday month. Not just any old birthday, mind. This will be my 70th. Three score & ten has a biblical ring.
Created new Patreon Page. You can now support & give financial & other practical help to Yours TrulyTM. Please don't hesitate!
OR to make a one-off donation, please click
securely via PayPal.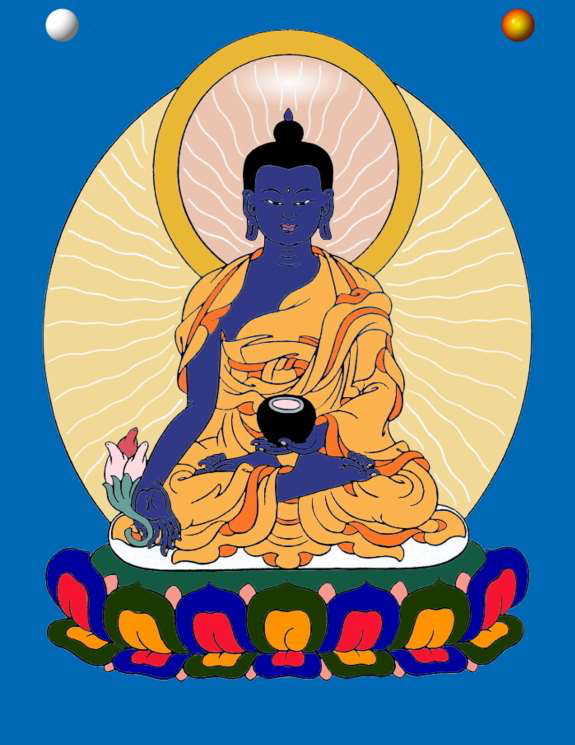 5th - took part in Zoom Empowerment for the Medicine or Healing Buddha. Won't say no to healing during this time of Omicron, the latest virus variant. Sangye Menla (in Tibetan) is blue-skinned like the Na'vi in film Avatar. Navy Blue or rather beautiful Lapis Lazuli. Sacré bleu! Picture worth a thousand words, so They (the ancient Chinese Philosopher) say. Behold on your right.
Mantra does its aural & oral abracadabra magic too:
tayatha om bekandze bekandze maha bekandze radza samudgate soha
This being virtual rather than analogue, there was no actual physical contact (previous examples of 'empowerment' - Skt. abhiṣeka, Tib. wang - I'd had usually involved transmission of some kind via a very gentle 'thwack' or rather tap of a teapot or something on the bonce.) Esoteric stuff one doesn't have to worry about. All in the mind. You just have to use your imagination.
click pics
13th - Today is St Lucy's Day - Patron of writers, lights, people with eye troubles, lamplighters & me. It also happens to be my 70th orbit round old Sol. Three score years & ten. Glad I got thru 69.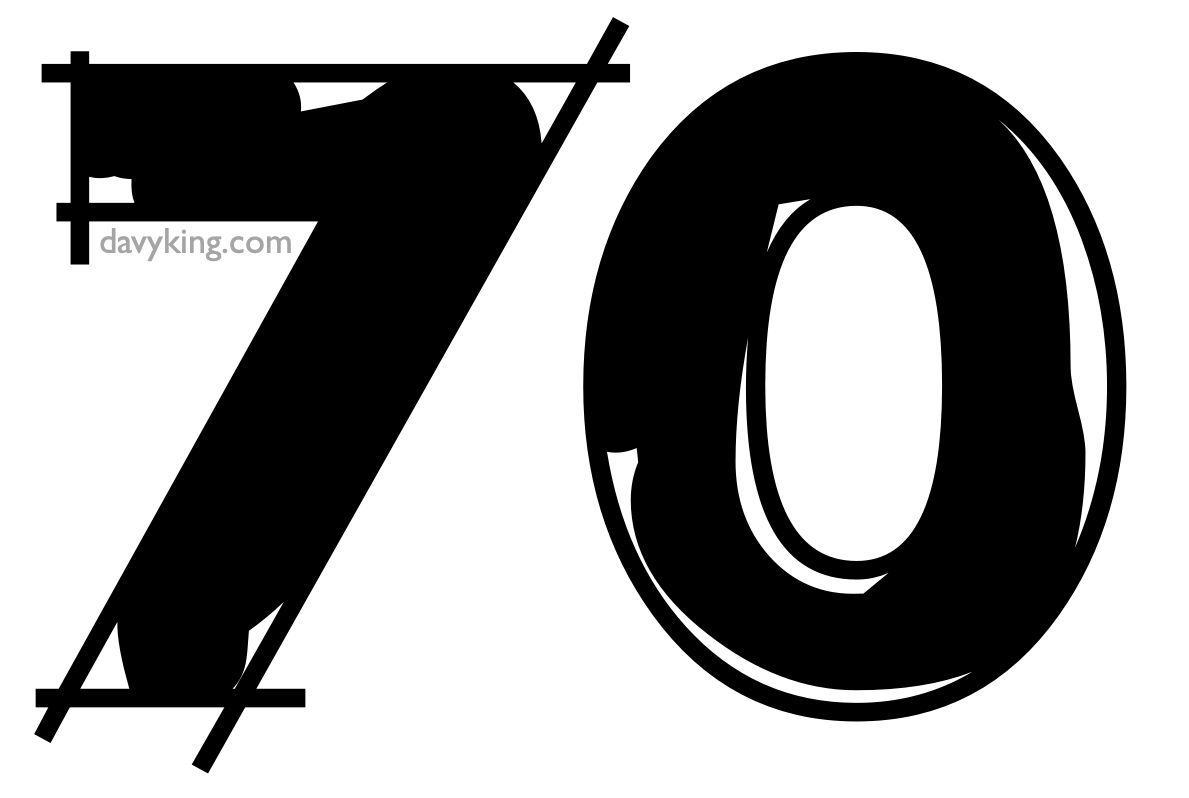 Old enough to start calling myself an elder?
Making a wish