A Few Stages of Dante's Journey Thru
Inferno, Purgatory, Paradise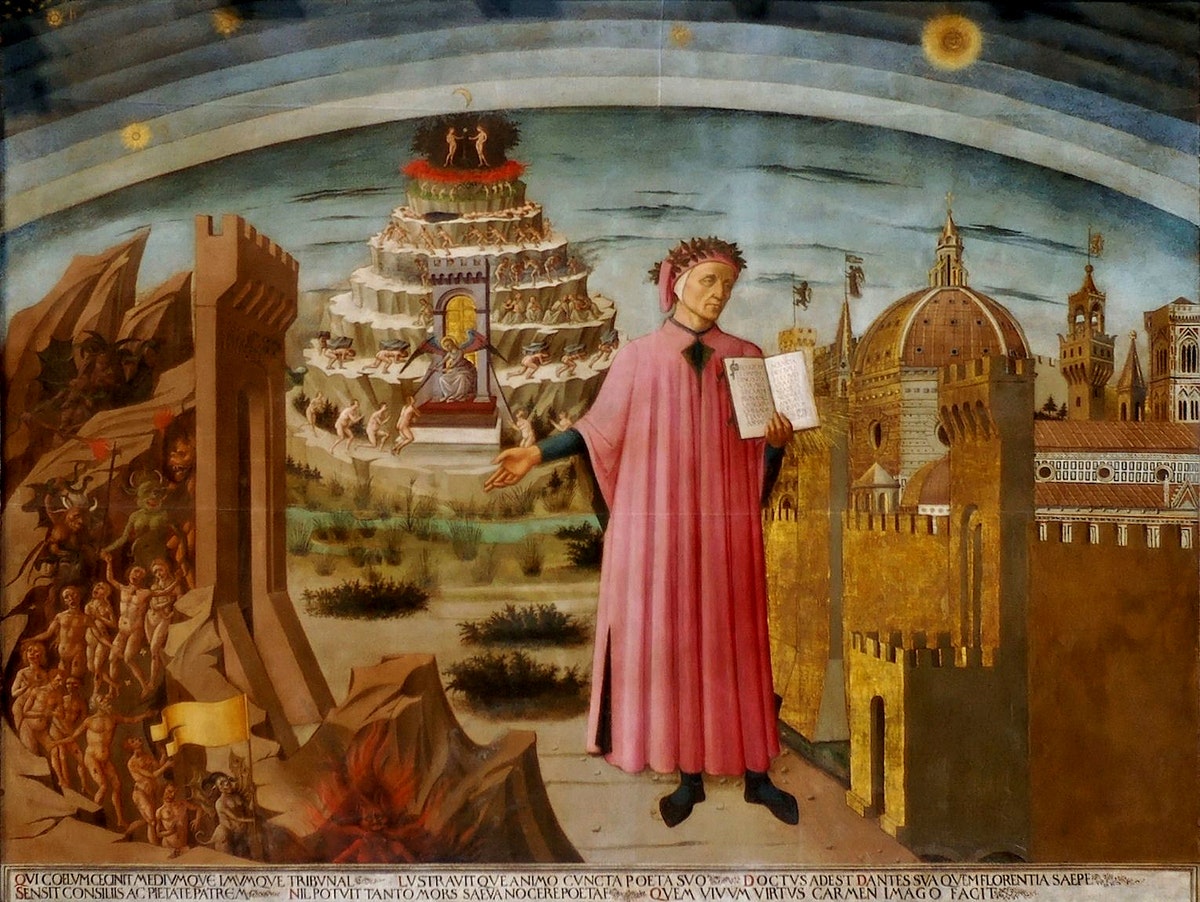 I came to myself in a dark wood
Abandon all hope, you who enter
Love which moves the Sun and other Stars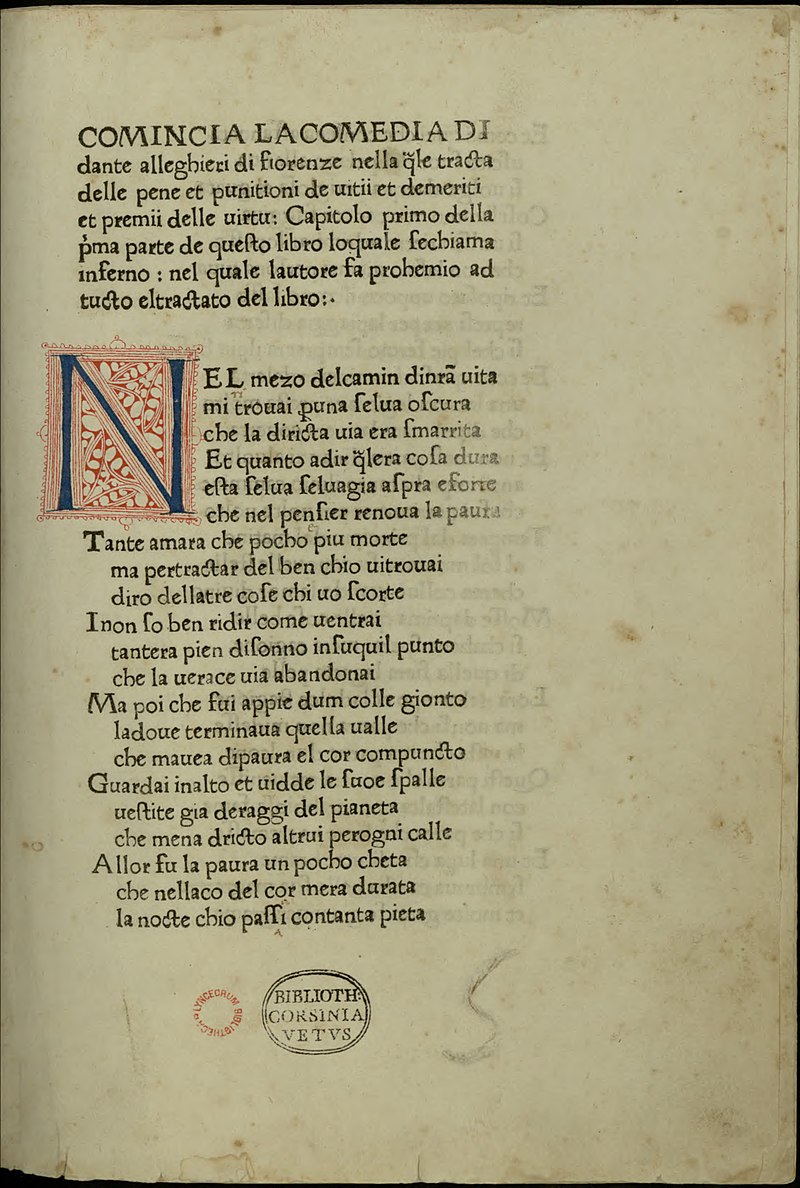 The work has inspired many visual artists to offer illustrations over the years:
(Dante entering the Inferno with Virgil)


(The inscription over the gate)


"Through me you pass into the city of woe:

Through me you pass into eternal pain:

Through me among the people lost for aye.

Justice the founder of my fabric moved:

To rear me was the task of Power divine,

Supremest Wisdom, and primeval Love.

Before me things create were none, save things

Eternal, and eternal I endure.

All hope abandon, ye who enter here.

Such characters, in color dim, I mark'd

Over a portal's lofty arch inscribed."

(Translation)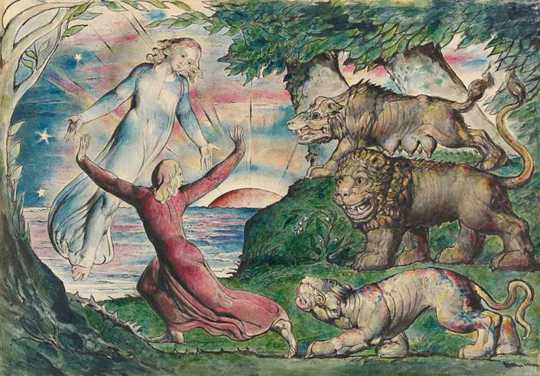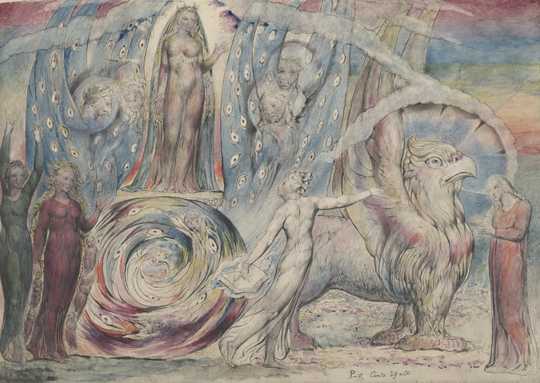 Lucia carrying Dante in his sleep, by Blake 1824-27: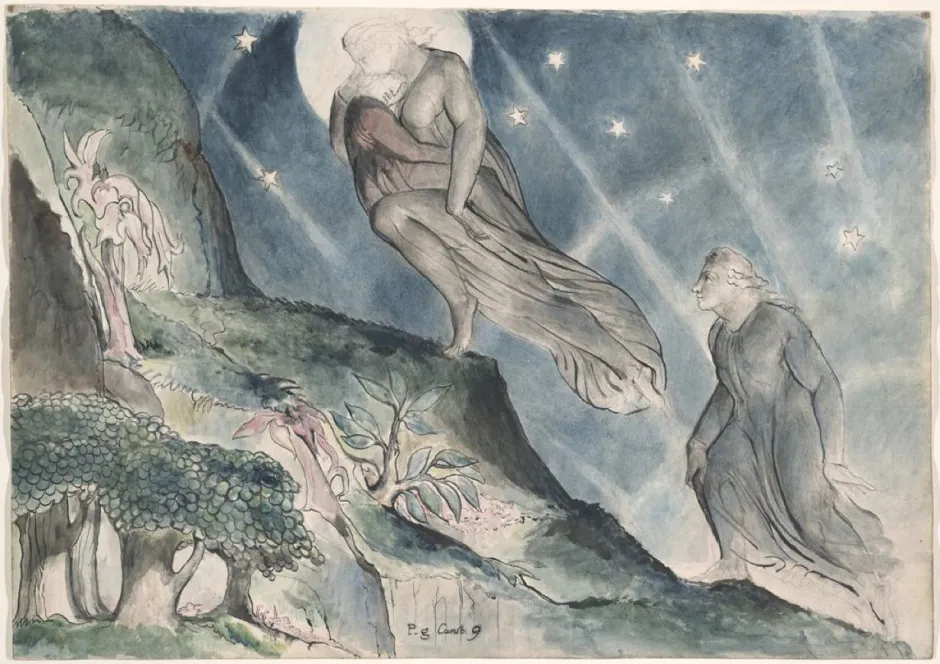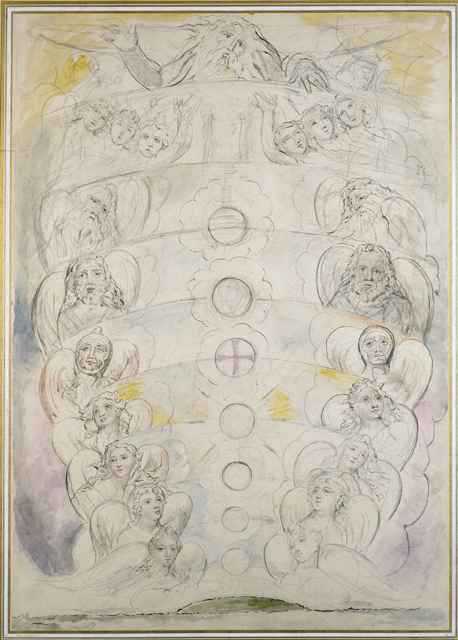 ***
Botticelli - Drawing of Dante and Beatrice in the second planetary sphere of Paradise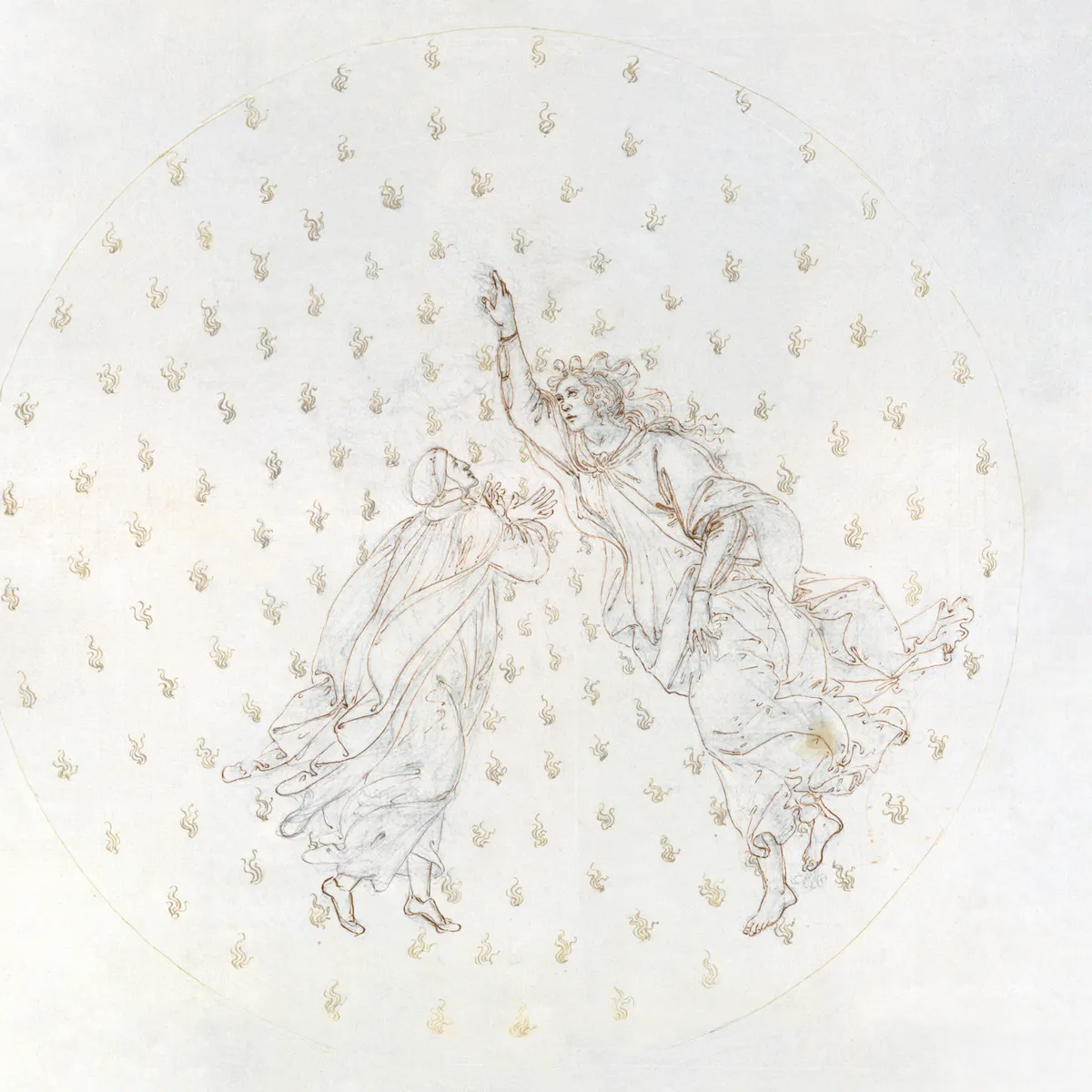 Botticelli - Punishment of the Panderers, Flatterers
Botticelli - Map of the Inferno (the Abyss of Hell) - 1480/1490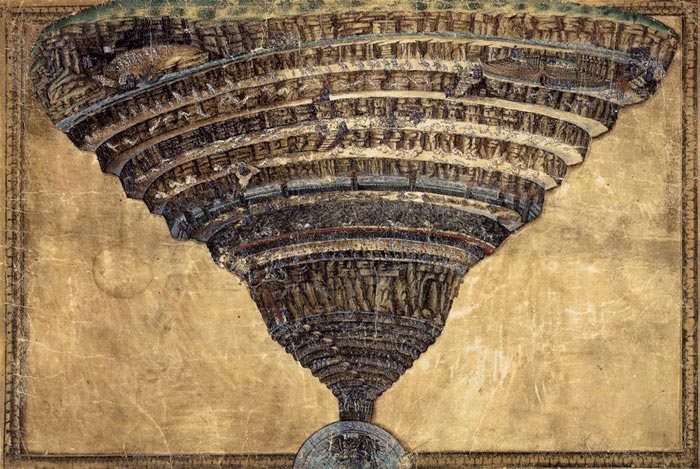 Paradiso by M. Bernardino Daniello da Lucca (1568):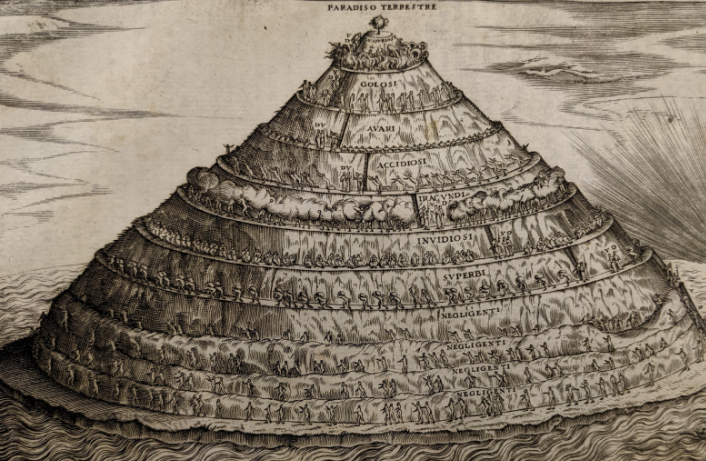 Inferno c5 line 138

Paulo & Francesca

\

Purgatorio 8,

Dream of the Eagle

Paradiso 29, Dante & Beatrice

The just souls form the shape of an Eagle
The host of myriad glowing souls in the second realm

(Paradiso, Canto 5.Line 103)


Dante sees the formation of a golden ladder

and souls descending from the steps

(Paradiso 21.28)


Beatrice Enthroned

(Paradiso, canto 31, line 67)
Dante & Beatrice by Odilon Redon
Dali, Paradiso
| | |
| --- | --- |
| Canto 19 | Canto 25 |
| Canto 28 | Canto 33 |
It's called a Comedy not cos it's funny or full of jokes but because it has a happy ending unlike a tragedy. Dante's work was originally titled simply Comedia. 'Divine, was added by Boccacio.
(Enable audio for embedded sound)
Giovanni Pacini - Sinfonia Dante in D-Minor
4 movements - Inferno, Purgatorio, Paradiso, Triumphant Return to Earth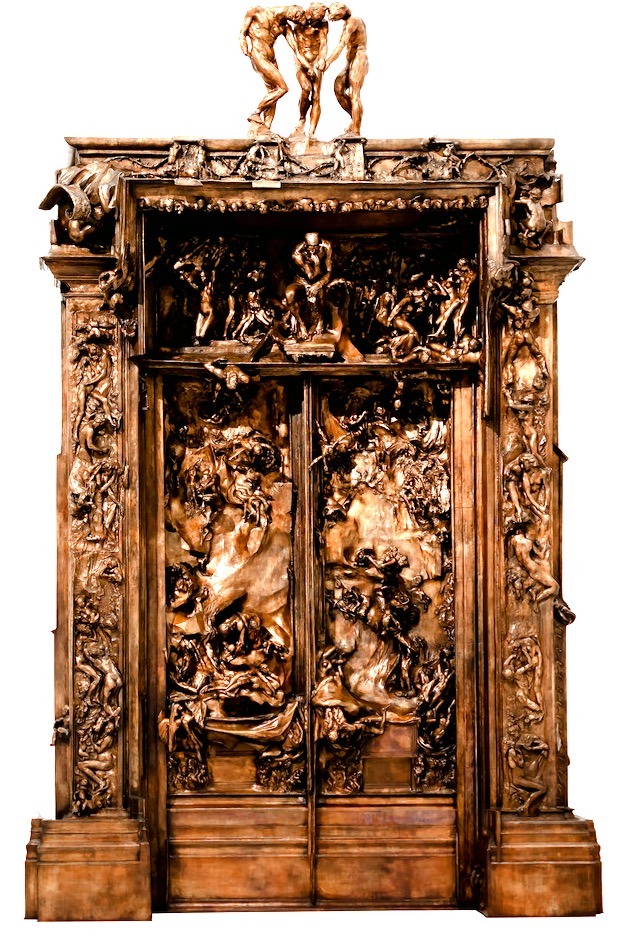 Rodin Gates of Hell in brass

PS: "though she will always be my Beatrice/ I'm too weak to yield Dante's pen" - Page 17 of my book, 'Songs of Frustrated Lust & Seduction'
PPS: Dante Alighieri, born Florence c.1265, died 14th Sept.1321, aged 56, Ravenna, Italy. 14th Sept 2021 was the 700th Anniversary of Dante's death.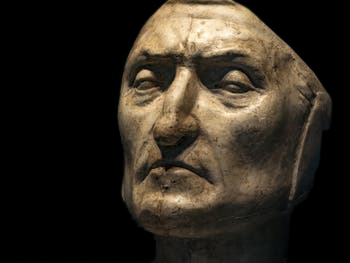 Dante's death mask
click pic?
PPPS: Not forgetting La Vita Nuova, poems & prose about Dante's love for Beatrice, translated into English by Dante Gabriel Rossetti.
(Dante & Beatrice Painting: Henry Holiday, 1883)