Walt Whitman:
"I am firm against Shaksper - I mean the Avon man, the actor."
"
Conceived out of the fullest heat and pulse of European feudalism
-
personifying in unparall'd ways the medieval aristocracy, its towering spirit of ruthless and gigantic cast, its own peculiar air and arrogance (no mere imitation)
-
only one of the 'wolfish earls' so plenteous in the plays themselves, or some born descendent and knower, might seem to be the true author of those amazing works
-
works in some respects greater than anything else in recorded history.
"
Freud:

"I no longer believe that William Shakespeare the actor from Stratford was the author of the works that have been ascribed to him."
- Autobiographical Study (1927), 130

"It is undeniably painful to all of us that even now we do not know who was the author of the Comedies, Tragedies and Sonnets of Shakespeare, whether it was in fact the untutored son of the provincial citizen of Stratford, who attained a modest position as an actor in London ... "
- Speech accepting the Goethe Prize, 1930.
"We will have a lot to discuss about. Shakespeare. I do not 'know what still attracts you to the man of Stratford. He seems to have nothing at all to justify his claim, whereas Oxford has almost everything. It is quite inconceivable to me that Shakespeare should have got everything secondhand - Hamlet's neurosis, Lear's madness, Macbeth's defiance and the character of Lady Macbeth, Othello's jealousy, etc. It almost irritates me that you should support the notion."
- letter to Arnold Zweig, April 2, 1937

"In the work of the greatest geniuses, humble beginnings will reveal themselves somewhere, but one cannot trace the slightest sign of them in Shakespeare... I am not concerned with who wrote the works of Shakespeare... but I can hardly think it was the Stratford boy. Whoever wrote them had an aristocratic attitude."
- My Autobiography, 364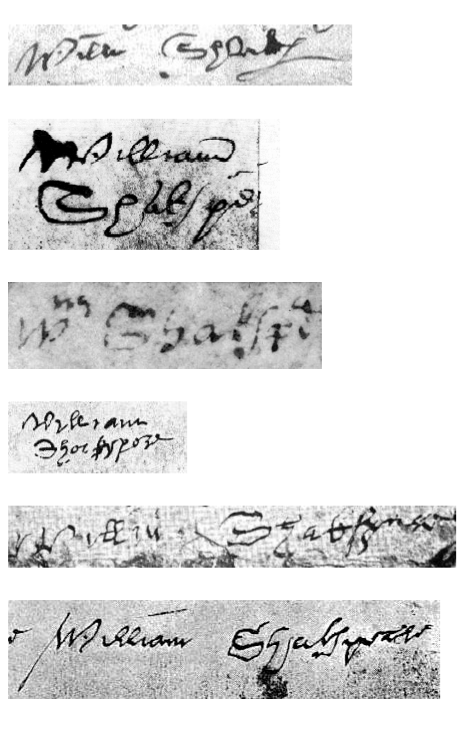 Sh's 6 surviving signatures, rather ugly scrawls:
Willm Shakp,William Shakspēr,Wm Shakspē,William Shakspere,Willm Shaksper,William Shakspeare