.


...time hurries on. It's next year already.
Jan 1st ~ Still NOW. A powerful, timeless time. Begin again, as good old Finnegan said.
6th ~ Created new webpage, Feast of Epiphany
days into new year
another repeat of fear
same old same o dear
expect we could cheer up
take steps in a positive direction
as it were
breathe in out
that's what it's all about
*
8th ~ Using "Attar Ltd. Oud" - Attar was the name of the Sufi poet who wrote "Conference of the Birds"
Fragrant.
9th ~ Continuing...
no need to report
yesterday's news
superfluous thought
same old blues
***
10th ~ Famous guitarist Jeff Beck died, aged 78. RIP, let rip.
Added soundtrack 'All Blue' from Miles Davis' Kind of Blue to page, road.
Friday 13th ~ Unlucky for some, though I was born on 13th. Unhappy Anniversary of James Joyce's death.
Added soundtrack "Hope" from Mahavishnu Orchestra's "Birds of Fire" to page, Hope
14th - Created new page, inconsequential, soundtrack music by Nils Frahm.
15th - Proudhon's Birthday (1809). Started creating new webpage, expt.
And another small one, just for fun.
17th - Tiny new webpage, Curry, in case you're hungry for more.
Playing with this, laconic, nonsense verse.
18th - More NEW pages, fly, quest, leap, busy boy.
19th - Play? Anyone for a new page? And another, oldnew.
20th - diary, for what is becoming daily new piece. Yet again. splash!
21st - It's nice, so i'm celebrating a new page
22nd - Anniversary of Byron's death and Thich Nhat Hahn's.
We can still work and play for Political Utopia or it'll be our Requiem
Lunar or Chinese New Year of the Rabbit
& BTW a WATER bunny
23rd - Attempting to make a CREATIVE response to the world I'm in. How about this tasty new page, wisdom? Or this colourful one, polychrome?
24th - Assange not forgotten, following Belmarsh Tribunal in Washington DC yesterday, here's a new page/poem
Waiting for latest Doomsday Clock announcement coming today. Ho hum.
Now it''s moved forward to 90 SECONDS to midnight!
25th - Conscious? New Page Poem. Experimented wth this little prayer.
30th - by magic, did this, Merlin. Gathered links new pages in 2023, here.
Vandalised The Bard by Thomas Jones
quick click pic
31st -a new webpage about change for the last day of the month, transmute. And another good one. Third today, VIEW.
1st Feb ~ Cross Quarter Day, Imbolc, St Brigid's Day.
2nd Feb - musing on matters this morning, as one does, I came to the conclusion that I prefer Elves to Elvis. former only exist in imagination, though so does latter really. The difference a vowel makes.
James Joyce's Birthday (1882). Listen to his lovely lilting voice, (hear here) it's YOUR choice!

Grey day? New page!
QR Code for website front cover done by Osker.
And Barcode for website:

3rd Feb - it's not what you say...
4th Feb - Eternal? Stroll? Created 2 new Pages
5th Feb - Fate? New page anyway.
6th Feb - Dead Dad's Birthday. Born 1915, died 1968, age only 53. Created new webpage of one of his poems.
AND yet another page, naturally. And this, tic. Still playing with it. May take a while before it settles down.
8th Feb - New page, Sufi Blues
9th Feb - Playing with these new pages, Vegan & Arabic & Silence
12th Feb - little new page, called lot.
14th Feb - Topically, direct you to Valentine. Did Bouquet by my dead Dad
21st Feb - Shrove Tuesday, Pancake Day. Losar, Tibetan New Year of the female Water Hare/ Rabbit.
22nd Feb - Ash Wednesday, first Day of Lent.
28th Feb Created new page, coup & UFO
1st March, St David's Day.
6th March, Created Crystal Ball page
7th March, Created new Silly page.
8th March, in India, Holi Festival of Colours, (Spring, Love, triumph of Good over Evil, that sort of thing).
Gentle snow falling, world turning white.
9th - snow continues. Outside white as this page.
10th -
15th - Created new HOUDINI page.
16th - Somewhat alarmed by the preposterous prospect OCTOPUS farming. These are clever sentient beings & would experience unnecessary suffering.
as an entrée ate
primordial soup
eventually evolved
into poop

17th - St. Patrick's Day. Created new octopus page.
19th - Illegal U.S. invasion of Iraq began (2003) See internal links here.
Anniversary of Kronstadt My poem about it here.

20th - SPRING EQUINOX!!!
21st - so-called World Poetry Day. Ain't every day?
22nd - Springclean, new.
Ramadan? Food? Fast or slow?! No Plant-based Vegan Milk Sheikh!
30th - Eye Of Horus ring to protect.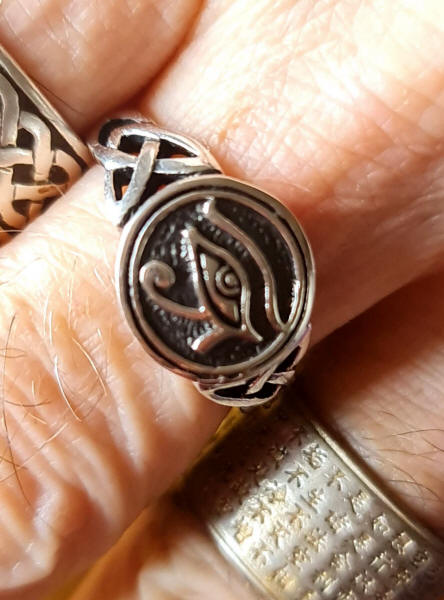 April 1st - Created, fool page.
April showers to come?
2nd - Palm Sunday. Dig the Donkeys in Depictions of Jesus' entry into Jerusalem.
mourning in the morning
mourning at night
mourning whenever
it's alright
why not cheer up now
quick as we might
don't despair
if you care
it really is ok
anytime of day
3rd - Playing with this new crisis page.
4th - creating whatever.
5th - Did new page on Trump and Bowie.
6th -How about another new, Swan Lake.
NB Usually when I compose a text, it takes a few days for it to settle down into final form. So please check back...
7th - "Good" Friday. New page, blessing. And also new, holy. And spell.
9th - EASTER Sunday. Rose from dead this morning.
11th - Testing this new typeface here, to add a bit of interest... ain't it clear?
Created new page, dance.
Sketch of moi by Kay, my kind consort
Did NEW, Resting.
13th - Another new page, Miles
14th - Playing with this new page, Coronation
18th - New improved sketch/caricature of me by Kay, my kind consort
Created tiny new pages, Lives & Continue
21st - EID al-Fitr, festival of breaking Ramadan fasting, so a time of celebration for Muslims, hurray! New page, Celebration
23rd -St. George's Day & reckoned to be Shakepeare's Birthday. St.George was unkind to dragons. Dragon Lines are Ley Lines. The Welsh have a dragon on their flag.Re Shakespeare? Consider this, folio? Lots of people question if the man from Stratford was the real author.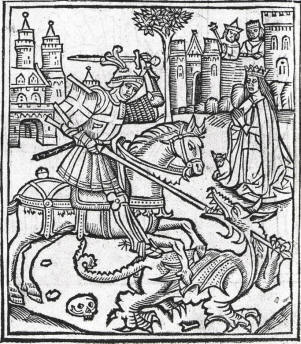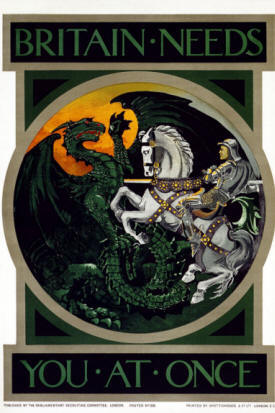 XR have been making presence felt, The Big One till Monday. Just heard Government Warning broadcast at 3pm. On all mobile phones. Reminded me of this. A real emergency
New Page, Polo
24th -
Samurai, new page
25th - Thatcher told us to REJOICE on this day in 1982. New page, Survive.
29th -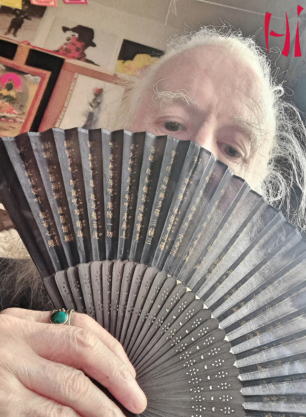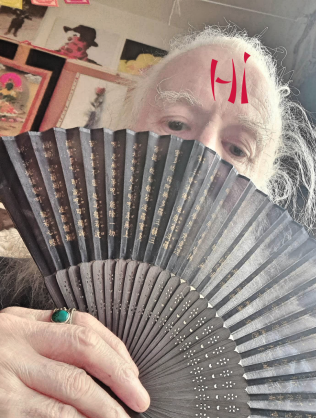 May 1st _ Mayday Hurray! Created page, tsar.
May 2nd ˜ Mandelbrot page & CharlesIII & Che
6th - Watched Coronation of Charles III on TV. Pomp & Circumstance , Pageantry in Procession to & from Westminter Abbey. Crowning of a so-called King. Show Biz. Colourful Bling.
8th - Did Dreamland page.
9th - Boy, new page, sort of autobiographical nonsense. Blah ....
10th - Fishing, new page. statusquo, new page, astra, new.
Blossom & Flowers in Garden.
11th - Nous page
12th - Smugglers
13th - AI, new page
14th - minstrel, memory.
15 th - Yesterday, 15th May, was Nakba Day, 'Day of the Catastrophe/ Disaster' (an-Nakba). For Palestinians an annual day of commemoration of the massive displacement preceding and following Israeli Declaration of Independence in 1948.
During the 1948 Palestine war, an estimated 700,000 Palestinians fled or were expelled, and hundreds of Palestinian towns and villages were depopulated and destroyed. Check out what I wrote abou Palestine & Israel, here.
*
Just read Astronomers detected largest cosmic explosion ever seen, ten times brighter than any recorded exploding star (supernova.)
19th - Chance, new page. And Kismet.
22nd - Harlequin. Hot day:
23rd - Big new page, called Vanitas
24th - Chiaroscuro, new page
26th - Guru page
27th - New Lick page
29th - Magician, new
Audio: Conference of the Birds by Dave Holland Quartet
[NB Enable Audio for Embedded Sound]
Another track by DHQ on TAO NOW
to be continued...


quick click